Sudan: "This Photo is a Snapshot of Hope"
SUDAN:
This image has just been sent in by Ljubica, Medical Coordinator at EMERGENCY's Paediatric Centre in Port Sudan.
Every day, Ljubica and her colleagues work tirelessly to provide free, high quality medical treatment to children in the area.
Malnutrition is responsible for around half of the 5.9 million children who die annually worldwide. In our Paediatric Centre in Port Sudan, we fight malnutrition day after day with nutritional programmes and 'health promotion' – educational campaigns aimed at parents.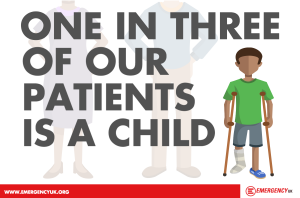 At EMERGENCY, one in three of our patients is a child. It's only down to you – our generous donors – and our dedicated staff in the field that we are able to do our vital work combatting child mortality across Asia and Africa.